Green Deal 'pay as you save' finance
InstaGroup is one of a limited number of companies fully accredited to offer Green Deal finance, a 'pay as you save' energy efficiency loan.
Green Deal was set up by the government to help UK householders spread the cost of paying for energy efficiency improvements through the savings made on electricity bills.
The scheme is currently under central government review, with new terms promised for Autumn 2018. In the meantime, we are continuing to look after existing customers who have Green Deal.
If you have any questions about what Green Deal could do for you, please get in touch.
The Green Deal scheme is currently under review with central government.
We are awaiting updated information, which has been promised for Autumn 2018.
close
InstaGroup is a fully accredited Green Deal Provider.
We are accredited credit brokers, Green Deal Assessors and Green Deal installers.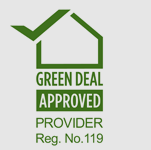 close