We're one of the leading installers for home insulation in Oxford. We offer a friendly, personalised service from

expert survey

through to professional installation.
InstaGroup is an accredited specialist for home insulation in Oxford. Whether you're living in a mansion block flat, a large period property or a semi-detached house, we can help you to feel the benefits of installing insulation.
You can trust us to deliver bespoke solutions that will improve your home's comfort and give you welcome savings on energy bills.
Home insulation in Oxford from installers you can trust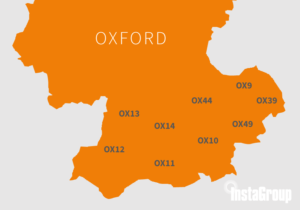 We have over 40 years' of experience installing insulation across the south of England.
We're currently focusing on the Oxford postcodes below, so get in touch if you want to take advantage of InstaGroup's professional energy assessment for your home.
| | | | | | | | | |
| --- | --- | --- | --- | --- | --- | --- | --- | --- |
| OX9 | OX10 | OX11 | OX12 | OX13 | OX14 | OX39 | OX44 | OX49 |
Book a home energy assessment today
Our approach to installing your home insulation in Oxford starts with a thorough no-obligation survey, carried out by InstaGroup's fully-qualified home energy assessor.
They will carry out checks in key areas of your home to see how you could start saving energy, and offer expert advice and recommended solutions for home insulation.
The results could save you money on household bills year after year, and make your home more comfortable all year round.
Savings backed by customer satisfaction
You can see why people recommend us for home insulation in Oxford, Hampshire, Surrey, Berkshire and more. Take a look at the great reviews and testimonials from our satisfied customers.
The savings speak for themselves
Cut your heating bills by up to £4801 every year with professionally installed Cavity Wall insulation which stops around a third of your home's warmth from escaping through the walls.
Save up to £580 every year2 on energy bills with Loft insulation effectively keeping in up to a quarter of a home's heat.
Save between £195-6503 a year depending on the size of your property with Solid Wall insulation (also called External Wall insulation) which stops a significant amount of heat loss.
Funded insulation*and insulation grants in Oxford
A grant to help cover the cost of installing insulation could be available if your household qualifies. If you're looking for home insulation in Oxford ask us about funding that may be on offer – we're always happy to see if we could help a customer to apply.
For your reassurance, InstaGroup is approved to carry out funded work through the government-backed ECO grant scheme and at times through other Local Authority or council grants that may be available. Find out more about ECO funding for home insulation.
We have extensive experience in applying for insulation grants, so get in touch to find out more about funding for home insulation in Oxford.
Friendly, professional service
If you want to improve your home's energy efficiency we offer friendly, expert advice and will deliver a professional service from start to finish.
All of our installation teams are trained and qualified technicians who use accredited and approved insulation materials, and our installations are guaranteed for workmanship.
Ask us about home insulation in Oxford or call the helpful InstaGroup team on 0800 526 023.