InstaGroup is one of the leading home insulation installers for Surrey. We work in the areas around Guildford, Farnham and Woking.
Is your property in Surrey insulated to today's standards? Without professionally recommended insulation your home could be losing an estimated 25% of heating¹ through the loft or roof space. Even more can leak out through uninsulated external walls – up to 40%2.
Installing home insulation with InstaGroup can help you to keep warmer at home, save all that wasted energy – and enjoy lower heating bills.
Expert home insulation installers for Guildford, Farnham, Woking
InstaGroup installs recommended insulation in Surrey homes in the Guildford, Farnham and Woking areas.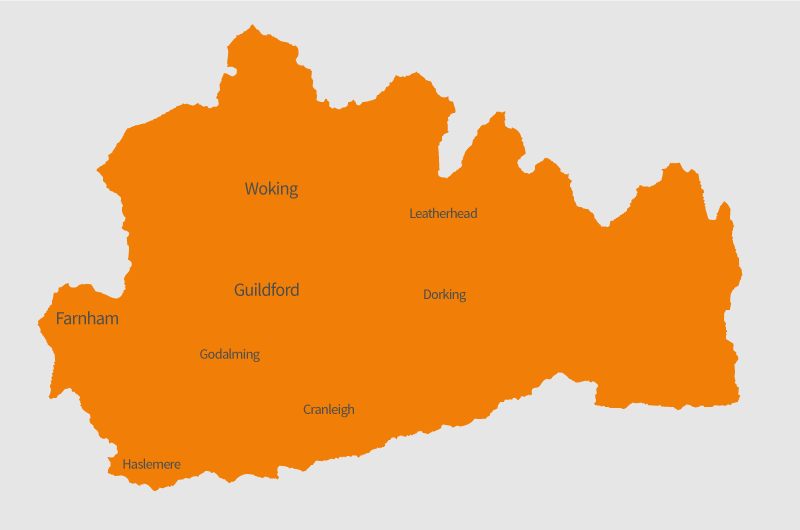 We install Cavity Wall insulation, Loft insulation and Solid Wall insulation to save energy and keep homes warmer. Insulating your home could save you as much as £650 every year on household bills3.
We understand that every home is unique, so every installation we carry out is tailor-made for your property. Whether you're living in a large Victorian house, a 1960s flat or a Park Home, InstaGroup has the skills to help improve your home's energy efficiency.
InstaGroup – for recommended insulation in Surrey
We have over 40 years' of experience installing home insulation throughout Surrey, and our workmanship is guaranteed. All of our installations are carried out by qualified technicians using BBA-accredited materials.
Ask us for a no-obligation home energy assessment and we can carry out an expert survey to find the best solution for your home.
Insulation grants for Surrey homes
We can also find out if you qualify for any insulation grants that could cover the cost of installing your home insulation. With our experience in the Guildford, Farnham and Woking area we'll know about any local insulation grants available for you.
Get in touch today for more details on the current government-backed ECO scheme. You can also visit our ECO grants page to find who could qualify.
Expert service from start to finish
For recommended insulation in Surrey talk to InstaGroup. Call our friendly team on 0800 526 023 or contact us now.