If you live in Petersfield or Alton InstaGroup can help improve your home's energy efficiency.
Is your home one of the many in Hampshire that's not insulated adequately? It could be time to get some professional advice from one of the leading insulation installers in East Hants.
Save on heating bills and enjoy a warmer home
Installing insulation from InstaGroup can dramatically improve your home's energy efficiency.
It's estimated that up to a quarter of your home's heat1 can be lost through an uninsulated loft or roof space. With an expert installation of Loft insulation from InstaGroup you could start to save around £1302 a year on heating bills. You'd enjoy a warmer and more comfortable home too.
Even more heat can leak out through external walls: up to half3 of a home's warmth can escape through uninsulated solid walls.
If you find yourself edging up the thermostat and still feeling cold at home, InstaGroup could have the solution. Get in touch now to find out how we could help.
Improving homes around Petersfield and Alton
InstaGroup has over 35 years of experience in improving home energy efficiency in Hampshire. We're trusted local experts with many satisfied customers around Petersfield and Alton. You can read what our customers say about us here.
We treat every home as unique, and every solution is tailor-made to suit your property. Whatever its size, from a large house to a Park Home, our professional no-obligation home assessment will ensure you receive expert recommendations.
For your complete reassurance, all of our insulation installers in East Hants are qualified technicians. We use only accredited materials, with full guarantees for workmanship.
Recommended insulation installers in East Hants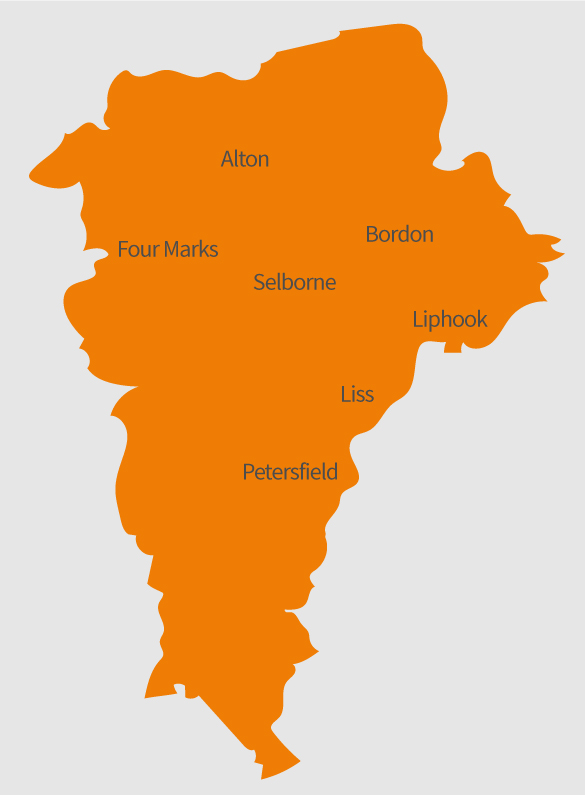 InstaGroup specialises in installing insulation around Petersfield and Alton to help save energy, reduce heating bills and keep East Hants homes warmer and cosier.
We're one of the leading Hampshire experts for Cavity Wall insulation which can deliver savings of around £1454 every year.
We also offer expertise in installing the latest Solid Wall insulation systems (also known as External Wall insulation). Depending on the size of your property, Solid Wall insulation could save you an estimated £115-4155 every year on your energy bills..
On top of saving you money and warming up your home, Solid Wall insulation has an added bonus. The system we install effectively refreshes and refurbishes the outside walls of your property, giving it an attractive facelift that adds to its appeal.
Free insulation* and insulation grants for East Hants homes
Ask us if you can claim any insulation grants that could cover the cost of installing your home insulation. For more details on current government-backed schemes you can visit our ECO grants page.
We focus on homes around Petersfield and Alton, so we can tell you if East Hampshire District Councilor other Local Authority schemes are available to help fund your home insulation.
Find out what can we do for you
If your East Hants home could benefit from an outside 'refresh' without insulation, take a look at our professional External Render service.
You can choose attractive colour-ways and a render finish that will brighten up the outside appearance of your home quickly and very cost-effectively. Our External Render improves weather-proofing for walls too.
For expert advice on all the above, call the friendly team at InstaGroup today on 0800 526 023 or contact us now.